Our interview with Jason Z. Christie!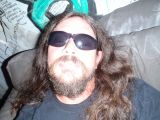 Bio
Grindcore/thrash metal drummer, nerd rapper turned novelist, Jason Z. Christie writes for the love of his perfect wife, Johnnie Christie, and his family and friends. Startlingly intelligent, insightful and romantic, he tells tales of high adventure via a variety of genres.
Bio provided by author's site.
Jason graciously agreed to be interviewed by a novice who is trying to help other authors while learning the trade.  I have found through the interview and the bit of research I have done that he is a thoroughly interesting and engaging person! He is a true artist who dabbles in various styles of the arts. It is my great pleasure to introduce Jason!
1. What makes for a good hook in your stories? Where does your inspiration come from?
I tend to come up with the concept, and write on it for a while. Along the way, I try and come up with the ending. The rest follows from there. I am fully inspired by my fiancée and editor. Were it not for her, I wouldn't be writing…
2. Are you an organized writer? Do you do things like take notes and make lists of characters? Or do you free write and work it out as you go?
I have always written with a vague scene in mind when I start off, or tried to. But there are entire chapters in Pageburner, for instance, that I had no idea I was going to write until after they were written. I enjoy that sort of writing. The entire cross-country travel section in that novel was entirely impromptu.
But with the Ultimate Hustle series, I went all out. I mapped out the next two novels, Ultimate Hustle and Superlove, when I was writing Penultimate Hustle. I had so much story, I had to add an additional novel to the series.
It's about the adult film industry, so I came up with something like 150 porn star names, and 100 film titles. I probably used 10% of them, but it really did add a lot of detail to the storyline. Having all the major elements planned ahead of time really allows the story to sort of grow into that framework.
My story ideas are usually a page of characters and plotlines, with lines connecting the various bits. It looks more like someone was designing a webpage than a novel.
3. What is your normal writing day like? Do you write when you are inspired or do you have a schedule?
I do everything I can do to avoid writing, lately. I'm still promoting and editing my first releases and trying to get my name out there. I'm trying to fall back into a schedule of writing at least ten pages a day. Editing is an ongoing process, as well. Life gets in the way…
4. Who is your favorite author and how did they inspire you to write?
Johnnie Christie is my favorite author, and she only writes for me, so far. She is the most inspiring person I have ever known. We manage to have a lot of fun writing poems for each other, as I slowly attempt to get her to write something lengthier.
For more mainstream authors, I really like Stephen King and Tom Robbins. I mention them in almost every interview, and I haven't even read all of their stuff. I also used to enjoy a lot of classic sci-fi like Heinlein and Asimov. Douglas Adams has always been a favorite of mine, as well. Clive Barker doesn't seem to get enough credit for the work he's done.
5.    It's easy to see that you have a passion for writing but is there any part of it you don't like?
I'd say the fact that novels are never really done, and that each new editing pass reveals problems in the book you were convinced was finalized. I also regret that I write them by hand, as my girlfriend types them up for me. I enjoy the thought of her doing it, but I know it's actually a lot of hard work.
6. Do you make time to read and if you do what are you reading right now?
I'm rereading The Door Into Summer by Robert A. Heinlein. I have a bad habit of rereading books I really like instead of reading new ones. In this one, he details automatic vacuum cleaners and AutoCAD thirty years before they hit the market. I do have several ebooks I'd like to read from contemporary authors as well.
7. It looks like you have a variety of styles in which you write. Which do you prefer? Is there personal life experience in the writing?
Yeah, I sort of have this plan to write books in many different genres. I am torn, lately. Ordinarily I like to write simple prose with storylines that aren't convoluted. The latest I'm working on has a pretty ambitious plot that's a lot less linear, and the writing is sort of looser, as well. I'm working at integrating the two approaches.
There's too much of my life in my books, sometimes. But who would believe it? It's fiction.
8. Your books have been published with Amazon.com and Kindle Direct Publishing, Does this mean you see the publishing industry headed this way?
I actually regret not going this route a year earlier. I was caught up in writing during that time, but after giving the print world long consideration, decided that direct publishing was the way to go. It's still up to you to do it, but there is no one who can say "no" and stop you. A complete inversion of the literary agent process. But there are a lot of poorly written ebooks out there, to be fair.
If nothing else, I see epublishing as a proving ground where you can work the kinks out of your novels before a live audience before submitting manuscripts. Having sales records to back you may be of interest to some of them, at this point. That end of the industry is going to change soon. Literary agents will come to you, in other words.
9. Do you have any online sites where others can read more of your writings?
10. Do you have any more stories in the works? What kinds of stories do you plan to write next?
I have three that are more or less actively being written, although I'm focusing on one of them lately. One is a construction murder mystery with Renee Hollander of Zen Construction from Hurricane Regina. Another is my attempt at a funny fantasy novel involving, among other things, a city of princesses.
But the one I'm working on the most lately is called Cure for Sanity, and it's a novel that brings together the Ultimate Hustle series with the Perfect Me series earlier than I had planned. I can't write Star Hustle until I write two more UH novels, so Cure For Sanity is a workaround for that. It's a pretty fun story, and sort of complicated for a humorous book. Or, that is my aim, at least. It's definitely darker than either of those two series.
There's a project that we've backburnered for now that I hope to get back to researching soon, but I also have my first poetry edition that I'd like to have ready for February. Penultimate Hustler, the sequel to Radar Love, should be out by March 23rd.
11. Who would be your first choice to play Captain Dan Nolan from your book "Hurricane Regina"?
We used to call Hurricane Regina "Overboard" for a long time, probably nearly two years. So I say Kurt Russell. ; ) Or possibly Dan Dolan, of Captain Dan and His Scurvy Crew, the pirate rapper in Florida. With a portion of the proceeds going to Clive Cussler.
12. If you could meet anyone from any time who would it be and what would be your first question?
I would meet myself from the future and ask, "What took you so long?"